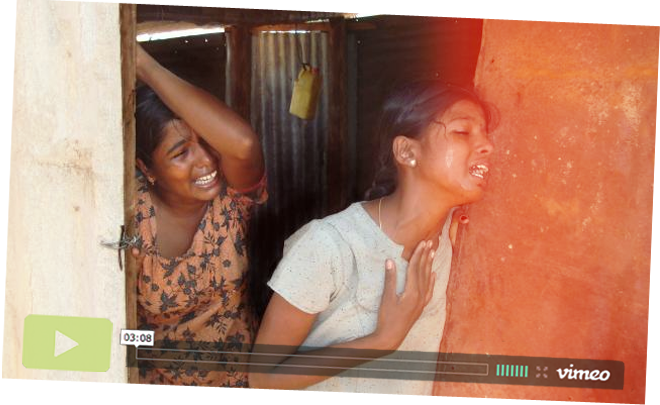 A film of record and a call to action: The true story of war crimes 
committed at the end of the Sri Lankan civil war in 2009.
May 10th 2013
AMAZING WE REACHED £20,000 IN JUST 10 DAYS - LETS SEE IF WE CAN DOUBLE IT - SEE BELOW FOR DETAILS ON WHY.
Ten days ago we launched this appeal – we said we wanted to raise £20,000 in 30 days to help finance a campaign to take our film around the world: A film that we genuinely believe can play a vital role in making the world understand what happened in the first few months of 2009. But a film which we hope will also spread the word about what is happening today as any dissent on Sri Lanka is crushed.

We hoped that £20,000 could play a vital part in keeping the campaign going – as part of the £200,000 we aim to raise to keep getting the message out – at least until March 2014 and the next meeting of the UN Human Rights Council.

We have been given fantastic support outside the Kickstarter campaign. The Bertha Foundation helped finance the making of the film, alongside our other partners and supporters including Channel 4, WorldView, BRITDOC, the Pulitzer Center and Stichting Democratie en Media.  But now Bertha and BRITDOC have given us further significant support for the outreach. Then last week we had other pledges, including from the web-based campaigning group Avaaz.

But the support for the Kickstarter campaign has been inspiring!
We are very grateful – and you have increased our determination – and our ability - to take this message around the world! And it is even more amazing that we still have 20 days to go, let's see if we can raise double our target!

Thank you all!
A special appeal to all our supporters
No Fire Zone works:  It shocks, it informs, and it changes minds.  But it can only do that if people go on seeing it.
The next few months are critical for the campaign for justice and accountability in Sri Lanka.
With the Commonwealth Heads of Government meeting scheduled for November and the UN Human Rights Council due to meet in September - and again next March - we need to take our film and our message around the world.  We want to ensure the film is seen by governments, politicians – but also by the people who elect them and call them to account.  We want to take the film to countries in Asia, Africa and the Americas.  We want to build local campaigns in those countries for justice and accountability.
But to do that we need resources.
So far we have been generously supported by the supporters and funders who are listed on our website.  But now we are running out of money for the next stage.
And that is why we are launching a Kickstarter campaign.
Kickstarter is a crowd-source funding website.  Anyone can go to the website and read about our project and make a pledge.  There are rewards for those who do. But there is a condition.  We have just thirty days to meet our target.  If we don't - we get anything – and your pledge is not taken from you.
Our minimum target is £20,000.  But we hope that will only be a start. The more we get the more we can do.  The more countries we can take the film to the more the campaign for truth, justice and accountability will grow.
Please support us.
We will release our URL on our twitter account @nofirezonemovie and on our Facebook site after 5pm EST.
Launch date Tuesday 30th 5pm EST.  (Live from Wednesday 1st UK time).  Keep an eye out for the announcement of the URL!
Join our mailing list
Request a screening near you
Send request